Covered with peculiar thorns yet extremely smooth and creamy on the inside, durians, the longest-running "King of Fruits" in South East Asia were cultivated 1,300 years ago near Yogyakarta, Indonesia. This fruit is believed to be originated from Borneo, Sumatra, and Peninsular Malaysia centuries ago. In the present day, durian is heavily farmed in Malaysia, Indonesia, Thailand, and even the Philippines.
Well known for its pungent aroma, creamy texture, and bittersweet aftertaste that ranges widely depending on the durian type, durians are highly sought-after not only by durian lovers in the South East Asia region, but all around the world including China, the United States, and Japan. China alone imports more than US$3 billion worth of durians in the year 2020. This number is set to increase by 220% at the end of 2025. In the US, durian is sold at a ceiling price of US$13 per pound and this figure is bound to increase as the demand continues to grow exponentially.
"China alone, imports more than US$3 billion worth of durians in the year 2020."
Due to its extreme popularity, astute business people have also experimented with various innovative ways to make durian attractive to the younger crowds—like turning it into snacks, desserts, condiments, and many more. Malaysian durians (organic and processed) are particularly loved by the people of China. With the increasing global export demands, durian farming activities in Malaysia have seen rapid growth over the last 5 years in view of the attractive returns.
The export of Malaysian durians has grown significantly after the General Administration of Customs China (GACC) officially allowed the import of frozen whole durians from Malaysia. The Malaysian government has since proposed a Durio-tourism project which will contribute to the economic growth once Durio-tourism goes into active promotion in the near future.
Identifying the different types of durian in Malaysia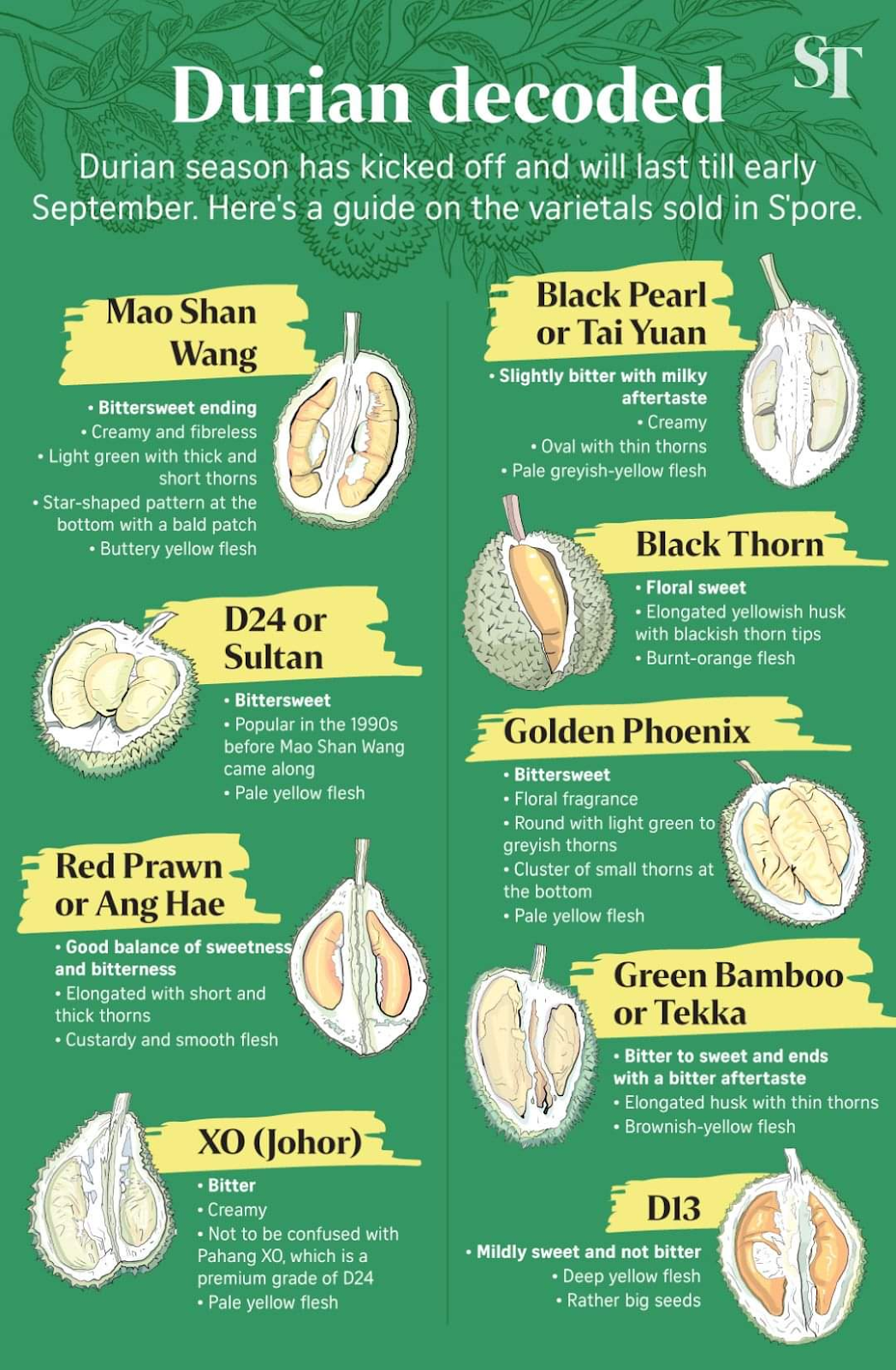 The types of durian, photo source: The Straits Times
This durian variety should be no stranger to the majority of people and it is the Musang King (Mao Shan Wang) durian. However, what many do not know is that there are actually more than 200 durian types and clones registered under the Ministry of Agriculture and Food Industries Malaysia. Can you imagine the number of unregistered durian species? The list would likely be unimaginable, but in this article, we'll share 5 of the most popular durian varieties in Malaysia:

(Photo source: Hernan Corporation)
Musang King (Mao Shan Wang)
Flesh Colour: Bright yellow
Taste Notes: Bittersweet, sticky, creamy
Place of Origin: Kelantan, Pahang, Johor
Musang King is one of the most aromatic durians you can find, it is a true Malaysian treasure. Not only its aroma stands out from the rest, but its external appearance is what makes Musang King unique. The husk is mainly greyish-green with a hint of yellow.

(Photo source: Hernan Corporation)
Red Prawn (Ang Hae)
Flesh Colour: Orangy red
Taste Notes: Sticky with sweet aftertaste
Place of Origin: Pahang, Johor
Red Prawn durian is also known as Hong Xia or Ang Hae/Hay. The demand for Red Prawn durians is high in Pahang, Johor, and the Klang Valley region. Due to its rising popularity in the local community, various durian orchards in other parts of Malaysia have started cultivating the Red Prawn species.

(Photo source: Hernan Corporation)
Black Thorn
Flesh Colour: Reddish orange
Taste Notes: Fleshy with bitter, sweet, and creamy taste
Place of Origin: Penang
Black Thorn's flesh has a shade of rosy orange, despite its given name, the texture of this durian type is usually smooth and soft. Black Thorn durians have a reputation no less than Musang King. It has won many awards since its first emergence as the champion at the Penang State Durian Competition in 2011.

(Photo source: Hernan Corporation)
XO
Flesh Colour: Pale Yellow
Taste Notes: Bitter and extremely soft, fleshy meat with an almost alcoholic taste
Place of Origin: Pahang, Johor
XO durians have a stronger alcoholic taste with a hint of bitterness, contradicting the pale and bland looks of its flesh. The pungent smell of this durian type indicates how tasty it is. The smellier, the tastier!

(Photo source: Hernan Corporation)
D24 (Sultan)
Flesh Colour: Pale yellow
Taste Notes: Very creamy and sweet
Place of Origin: Pahang, Johor, Cameron Highlands
D24 durians have firm, thick, and drier flesh as compared to the other types of durians. D24 is highly identifiable due to its rounded shape and looks.
Durian farms in Malaysia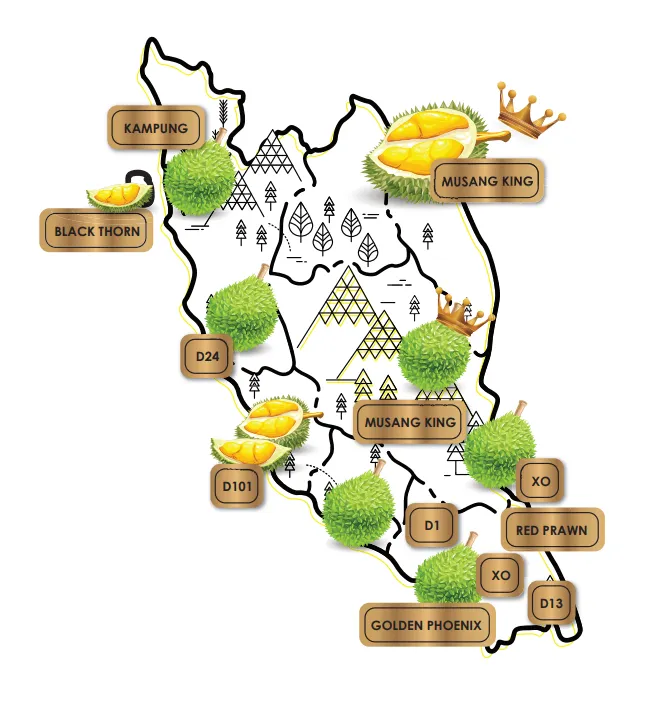 Durian farm locations according to durian types. Photo source: Hernan Corporation
Durian farms in Malaysia are scattered mainly throughout the Peninsular region. As one of the most chosen fruits grown in the Malaysian National Agro-food Policy (2011-2020), public interest in the farming of durian fruits has increased over time. Based on reports from 27Group, in the year 2018, the cultivated area and production of durian fruits in Malaysia alone increased to nearly 183,000 acres.
The home to the "King of Kings," Musang King durians, is located on a durian fruit farm in Tras, Raub. Raub is one of the largest and fastest durian-growing districts in Pahang due to its strategic geographical location. Together with the Tras area, Sang Lee and Sungai Chetong are among the list of the top strategic lands to farm Musang King in Malaysia.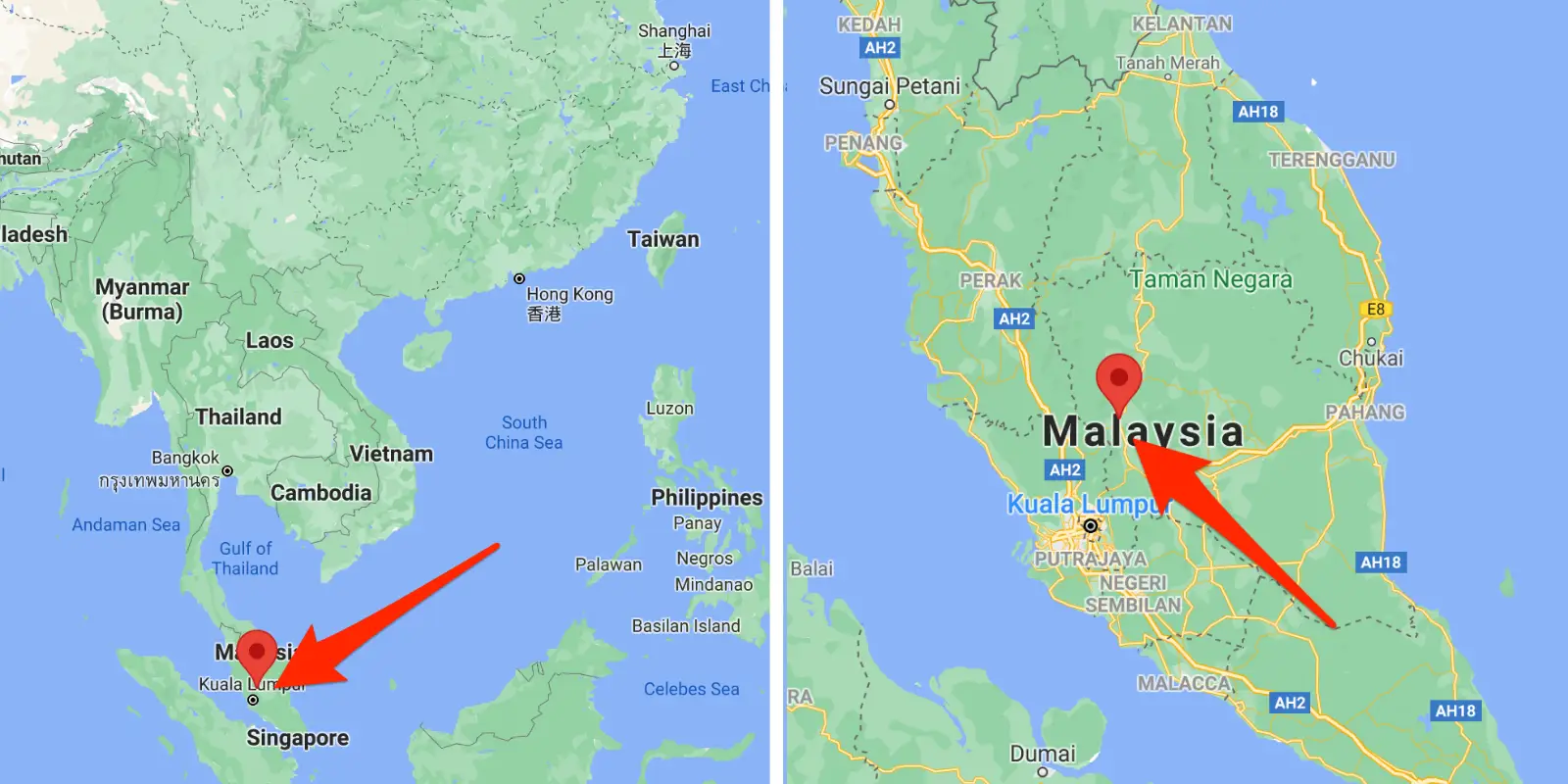 Location of Raub, Pahang. Photo source: Google Maps
The Royal Pahang Durian farm, in particular, has its own 1,000-acre farms and a durian fruit processing factory. The farm is certified according to myGAP and GMP standards and uses organic-based fertilisers to cultivate at least 3,500 metric tonnes of durians per month.
Activities of durian farming in Malaysia have increased year on year as a result of foreign interest in cultivating durians on the local lands. For example, 99 Old Trees, a durian wholesaler based in Singapore, cultivates more than just Musang King on the lands of Raub, Pahang as well.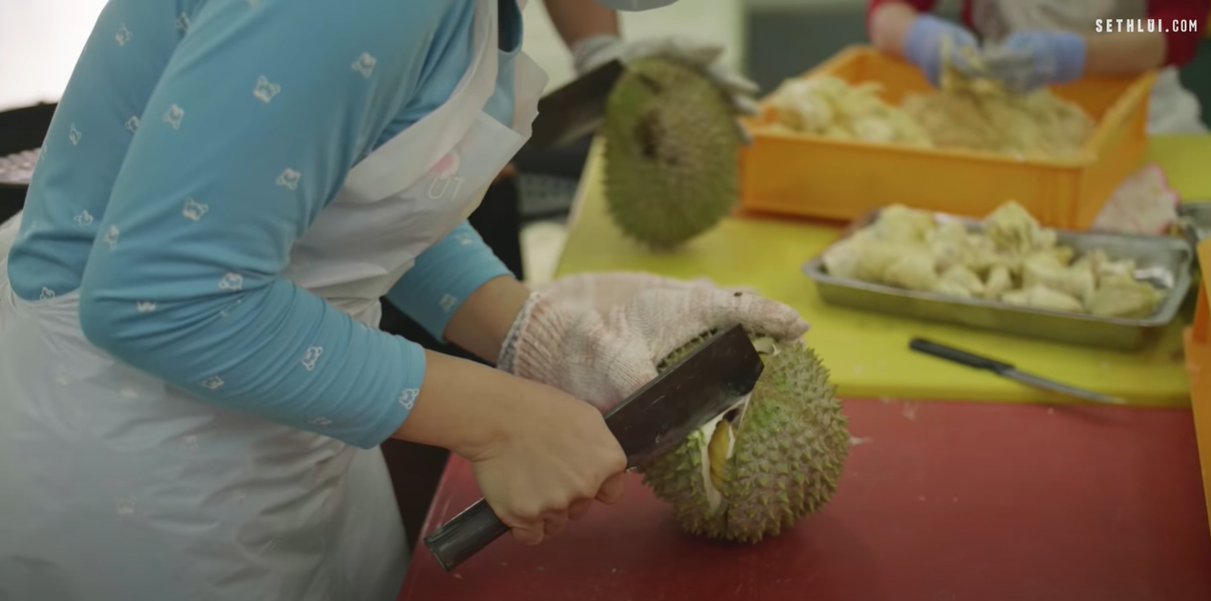 Inside a Durian Farm in Pahang: Farm to Table. Video source: Sethlui.com
Insider Note
The Durian Financing Investment Scheme aims to raise RM56 million (US$13 million) in capital to help speed up the planting of 5,600 Musang King trees.
Dr. Vijay Pillai, Durian Capital Berhad's managing director, stated that the first phase of the project will be fully funded by October 2022.
Durian seasons to look out for
The durian season in Malaysia occurs in stages each year, depending on the state the durian farm is situated in. It usually begins in May in Penang, followed by Johor in June or July. In early July or early August, it spreads to Perak and Pahang.
Below is a summary from Hernan Corporation, the largest and leading exporter of Malaysian durians, on durian peak seasons for each country. Typically, the durian season occurs between the month of May and September, with its peak in June and July for Peninsular Malaysia. During these periods, you can expect to see ample fresh durians everywhere along the streets.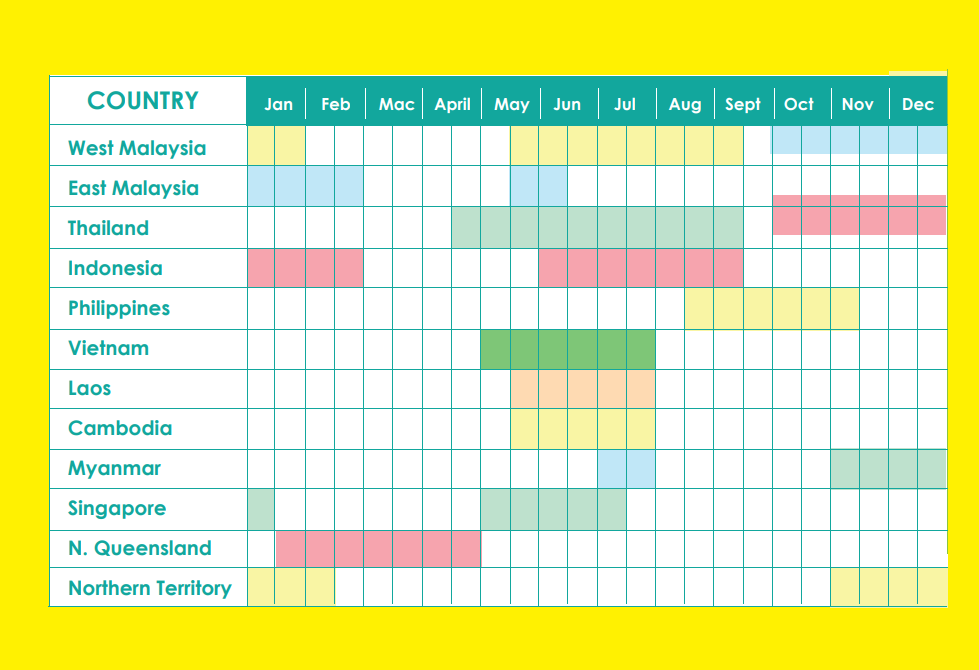 Durian peak seasons in different countries. Photo source: Hernan Corporation
During the months of December through February, it is also known as the so-called 'minor season' (or low season). One may still find and enjoy some durians, however, the fruits reaped during the 'minor season' neither grow as much in quantity nor as high in quality as compared to the mid-year's harvest.
The surge of durian demand
In 2020 alone, Malaysia has exported more than 30,000 tonnes of durians. With the expansion of harvest areas in Malaysia, the export number is estimated to reach 50,000 tonnes within 5 years' time.
The global trade of the durian fruit is currently dominated by three countries—China as the biggest importer while Malaysia and Thailand as the top two exporters of the most profitable fruit in the world.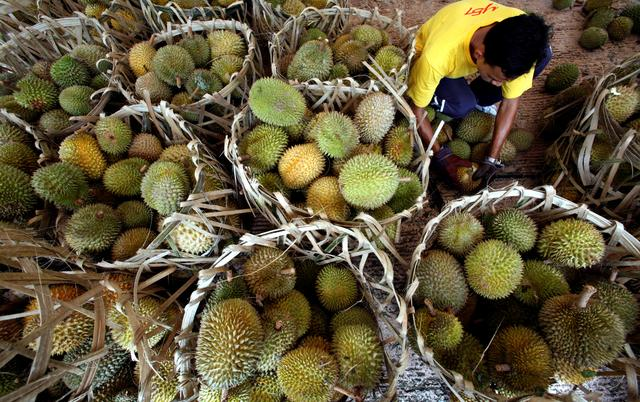 Durian fruits ready for exportation. Photo source: Reuters
During the pandemic outbreak in 2020, prominent courier service DHL Express in Malaysia started a next-day express delivery for durian initiative to deliver durian fruits within 24 hours to Hong Kong, China. In spite of the global health crisis, the demand for durians was as stronger as ever, outweighing the supply as durian is a seasonal fruit.
Getting licensed: Want to export durian?
Traders must first register with the Malaysian Companies Commission to obtain a licence in order to import or export items. Aside from that, having a thorough understanding of Malaysia's licensing guidelines will save traders from facing rejections by customs officials.
To export durian, it is mandatory for farmers, large and small orchards, and companies to acquire a durian export licence. Interested parties are required to go to the Department of Agriculture and download the registration form from their website. The required documents for application are: ID card, company registration certificate, title deed, and the Malaysian Good Agricultural Practices certificate (myGAP).
Growing durian: Durian yield per acre
Not all durians are born equal. D24s are sold at US$3 per pound while Musang Kings start at US$13 per pound. For a well-cultivated durian tree, the initial yield for the first year is 10 to 40 fruits. In the sixth year, the same tree can grow about 100 fruits. The yield can go up to 200 fruits per tree in the 10th year of fruiting. By the end of the 10th year, a single durian tree would have borne US$50,000 worth of fruits with inflation taken into account.
In 10 to 15 years after planting, well-grown and high-yielding trees can produce 9,000 - 13,000 pounds per acre of durian fruits each year. Today durian crops already make up 200,000 acres of Malaysian land.
"By the end of the 10th year, a single durian tree would have borne US$50,000 worth of fruits with inflation taken into account."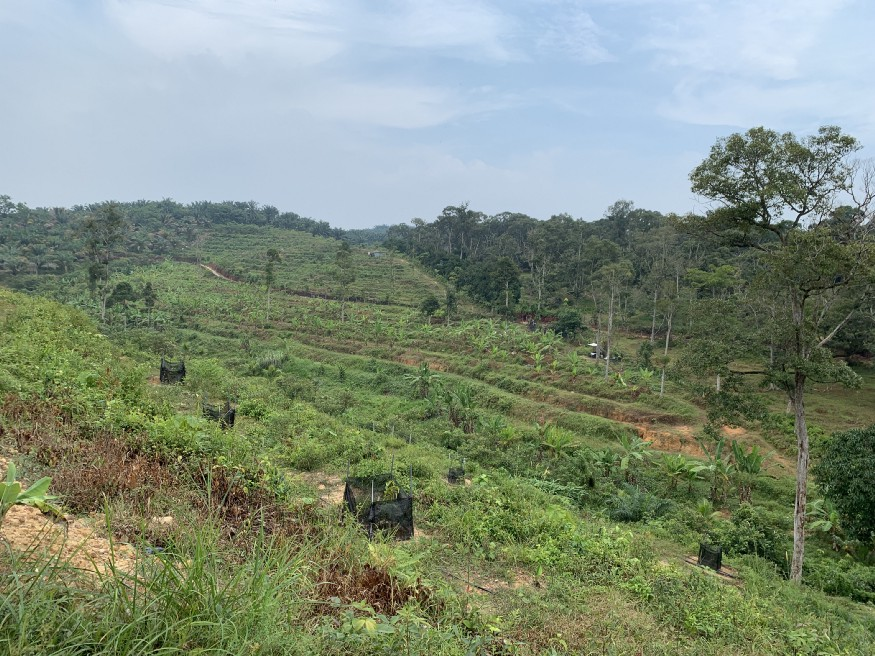 Durian farm landscape. Photo source: Ian Fan

Musang King plantation in Malaysia
Earlier in this article, we mentioned Raub, Pahang being the homeland for Musang King durian. In the town of Raub, plenty of residents there grew up with inherited lands which are now the equivalent of gold mines. Most of these lands are later turned into Musang King durian plantation.
According to CNA news, a plantation owner Jovi Kong generates over a hundred thousand Malaysian ringgits each year by exporting durians.

Each tourist's visit to a local durian farm in Pahang amounts to at least US$15 per head.

In the year 2019, there were 700,000 tourists from China alone who visited durian farms.

Musang King durian has broadened the local farmers' markets since its cultivation.
In fact, Plantations International is the first in Malaysia to cultivate Organic Musang King Durian. The company is in partnership with Malaysia's most prestigious research university, Universiti Teknologi MARA (UiTM), for its research and development efforts, and they have successfully developed fully organic Musang King durian saplings. Since its launch, the Organic Musang King durian is being sold at over US$50 per pound in China, resulting in an increase of over 50% in retail price.
Long term durian plantation investment
Any individual can invest and have a stake in durian profits even without owning a piece of durian plantation themselves. Durian Capital Bhd introduced the Durian Capital Investment Scheme in 2021, allowing Malaysians to invest exclusively in the Musang King durian industry. They have set aside 200 acres for the cultivation of Musang King durians under this scheme, and interested parties can pay as little as RM10,000 (US$2,500) per unit.
In the short term, global demand for durians is likely to remain strong, with a market size of US$18.72 billion in 2019 and is expected to reach US$30 billion by 2025. With that said, the Durian Capital Investment Scheme is predicted to provide a 7x projected return on investment (ROI) as well as about 14% annualised profits (compounded). It also plans to offer a 3% interim return from year one to year four, and a 30% revenue share from year five to year fifteen.
Insider Note
Global demand for durians is projected to remain robust in the near term, with an estimated global market size of US$18.72 billion in 2019 and is expected to reach US$30 billion by 2025.
Future of the durian industry in Malaysia
As demand grows, durian harvesting activities will continue to expand. Despite the pandemic over the last 2 years, the durian market appears to be relatively unscathed, and it is being predicted to grow upstream continuously.
Are you a durian grower or plantation owner looking for ways to keep your land healthy to produce good crops? Our HB-101 fully organic plant 'vitaliser', or plant growth enhancer, is specially formulated chemical-free by blending the extracts of cedars, pines, cypress trees, and plantains. This all-natural extract supports plant growth, improves soil condition, produces larger & sweeter fruits, promotes flowering, strengthens roots, and improves photosynthesis, among others. To shop for HB-101 plant vitalises, click here or visit our store on Shopee.
For more enquiries, talk to us today!